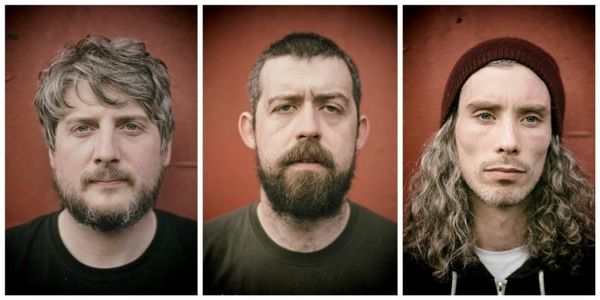 Heavy Electricity Bio 2015
No Spill Blood
Heavy Electricity
 
Dublin, Ireland, trio No Spill Blood's ferocious dose of synth-laden aggression, Heavy Electricity comes across with all the brutal heft of underground metal but also with the clever intellect of post-punk bands like Killing Joke and Iceage.
 
The band's shared love of Devo's smarmy synths, Trans Am's rhythmic soundscapes and the Melvins' unencumbered experimentalism brought them together to create a beastly noise using just vocals, bass, synths and drums. "The album chronicles a journey," explains keyboardist Ruadhan O'Meara. "It's an elemental pilgrimage emerging from the bowels of the earth, only to encounter savage environments, altered states, and the brutal inhumanity of fellow men." In other words, Heavy Electricity is a dark, but transcendent experience. 
 
Album opener "White Out" kicks things off with a commanding hi-hat to triplet count-in, as bassist/vocalist Matt Hedigan jumps in to the syncopated fray with growling, distortion-soaked bass. It's a moment of syrupy intensity befitting Masters of Reality-era Sabbath until the band suddenly lunges into a driving post-punk riff. "Back To The Earth" sounds like krautrock cranked to 11, with O'Meara's shimmering synth lines warbling over the churning rhythms. The hypnotic and occasionally hallucinogenic 6-1/2 minute "Now II" (featuring guest vocals by Mike Watt) builds subtly open a simple keyboard line into an epic metallic eruption similar to labelmates Russian Circles' awe-inspiring work. Throughout the album's 9-song, 46-minute duration, No Spill Blood never lets up on its intensity and power while still exploring a variety of sounds. 
 
No Spill Blood's debut EP Street Meat was released via Sargent House in 2012. Thereafter, the trio quickly grew from side project to a full fledged band. They hit the studio in early 2014 with original drummer Lar Kaye to capture the raw, eviscerating experience of its live show for Heavy Electricity. Powerhouse drummer Ror Conaty replaced Kaye shortly before NSB toured the UK with Sargent House family band Deafheaven in August 2014, their reinvigorated live show receiving considerable praise in the process. 
 
Heavy Electricity was released March 10th, 2015 via Sargent House.